News
"You shouldn't expect miracles from China." What prevents China from saturating the Russian market with its cars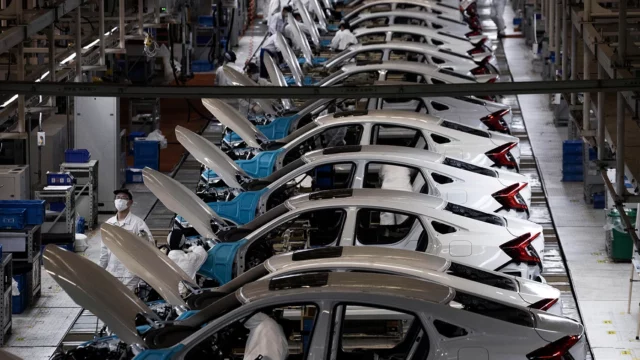 A large-scale crisis continues in the Russian automotive market due to sanctions imposed against the country, and China has not yet shown readiness to replace Western suppliers who have left the country. As Kommersant reports in a text dated June 21, imports of passenger cars from China in May fell to $32 million versus $84.6 million in April and $190.7 million in March. Andimports of components and spare parts amounted to $81.3 million against $117.1 million in February. Maxim Kadakov, editor-in-chief of the Za Rulem magazine, in an interview with RTVI named four main factors preventing come true hopes for a speedy revival of the Russian car market at the expense of China.
AT In the short term, miracles from Chinese manufacturers should not be expected for several reasons.
First. The auto industry is a slow industry. This is not a hole to dig: there was one, he invited ten more people with shovels, they will dig ten holes. Everything in the auto industry is very slow. There are no surplus production facilities for them to stand and wait there in the wings. And if they were, then now the crisis of underproduction of cars is severe, and, in general, if the Chinese have "extra" cars, they can be delivered not only to Russia. This does not mean that there is a queue for Chinese cars, but there are markets where these cars will be bought, that is, the markets are not only Russia, this must be understood. This is the first.
Second – this is COVID. China let it not all, maybe, but certain regions under covid restrictions. They actually existed all spring, and we still feel their consequences. This means that the logistics were at a standstill, it was impossible to take anything out of there, bring it here or somewhere else.
Respectively, third It's the logistics itself. Everything has risen in price and become more complicated, and, accordingly, delivery is problematic now. This does not mean that it is impossible, but just that everything is more difficult. Sune it will improve, but the price will not fall.
And, of course, last thing – this is, in fact, the prices of cars themselves. I have already said that gifts should not be expected from the Chinese, as well as from any other player in the market. There is business, there is a market, there are today's prices. This means that if there is a shortage in the market that allows you to sell cars for more, then they will all sell for more. If the cars cannot be delivered directly in a specific time period, this means that they will be even more expensive.
All Chinese companies in March unanimously rewrote the price tags and made + 50-60% to the price, and people, of course, were stunned. When a Chinese car cost a million — well, okay. When it cost one and a half – well, when two – people already thought hard. And when now Chinese cars have begun to cost two, three, and four million, the question no longer arises of whether to transfer to a Chinese car. Here the question arises that people, in principle, simply do not have that kind of money.
All these factors add up: too expensive cars, problems with delivery, problems in the automotive industry in general. And it turns out that, in general, no miracles in the short term could be expected. In fact, I do not expect any miracles in this sense until the fall. Of course, the Chinese will try to take advantage of the opportunities, this is natural.
The main players in this market – Haval, Chery and Geely – will try to seize the moment, gain a foothold, increase their share, sales, compete with each other, trample those who have temporarily moved away from the clearing, and so on. It's all clear, they will try. But there are also certain objective things.
Naturally, it's easier with auto components, so it's still easier to conditionally deliver a batch of pads than to transport cars. In addition, the car requires registration, obtaining a title, certification, OTTS, and so on. With the component base it is a little easier, but the same problems still work and interfere. Take, for example, a banal increase in the price of delivery: the cost of container transportation has risen in price, I'm afraid to make a mistake, five times, in my opinion, over the last period.