News
"We are already actively working on further steps": the Cabinet told what awaits Ukraine as a candidate for the EU
Thursday, June 23 Ukraine has officially become a candidate for membership in the European Union. After that, the country must carry out a series of reforms in order to fully meet the standards of the European Union. Vice Prime Minister for European and Euro-Atlantic Integration of Ukraine Olha Stefanishyna statedthat the Cabinet is already starting to work on these reforms.
We welcome this historic decision by the European Union, which in fact means that a large family of European Union countries sees Ukraine as a member of the EU. In these difficult times, the EU heard the people of Ukraine and clearly stated that our state belongs to Europe, we have a common powerful future," said Olga Stefanyshina. – Candidate status officially launches the process of Ukraine's gaining EU membership. We are already actively working on further steps and reforming the country, despite the war, so as not to lose the pace of our integration."
According to Olga Stefanyshina, the European Commission will constantly support Ukraine in the implementation of these reforms, providing the necessary consulting and other assistance. In addition, Candidate status opens up the possibility of obtaining financial assistance needed for transformation in various industries.
And, most importantly, this will allow Ukraine to approach the standard of living, well-being and legal protection of Ukrainians, as in other EU countries.
Read also: Ukraine will work fast and hard to fulfill the conditions necessary to start negotiations on EU accession – President of the European Commission
What does candidate status mean for Ukraine:
official start of gaining EU membership;
large-scale transformation of the country;
access to finance;
attraction of investments;
developed cooperation.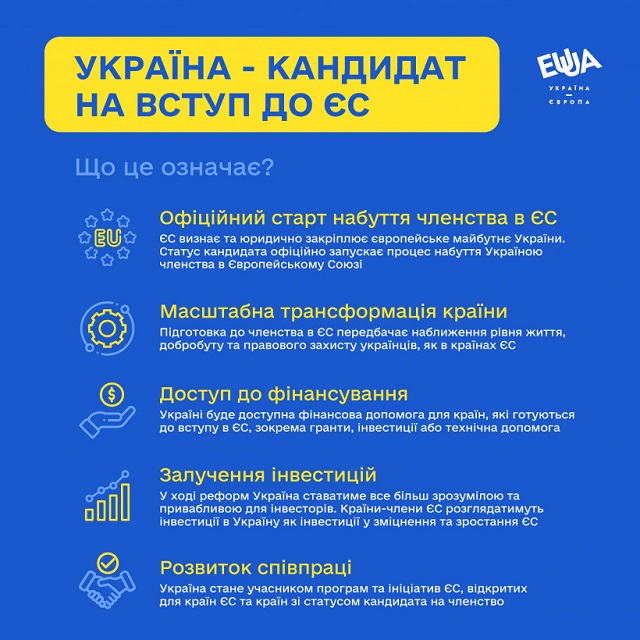 Recall that obtaining the status of an EU candidate was preceded by a corresponding European Parliament resolution. Before June 17 to grant EU candidate status for Ukraine recommended by the European Commission.