News
The General Staff – the occupiers are storming the outskirts of Severodonetsk from the south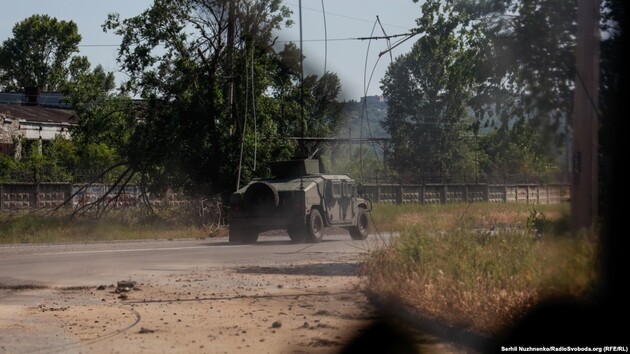 The Russian occupation troops are trying to finally capture Severodonetsk. They are storming the garrison of the Armed Forces of Ukraine located there from the south. About this in another summary informed General Staff of the Armed Forces of Ukraine.
"On the Severodonetsk direction the enemy fired from tanks, mortars, cannon and rocket artillery near Lisichansk, Severodonetsk, Belaya Gora, Volcheyarovka, Disputable and Berestovoye. Inflicted air strikes on the settlements of Lisichansk and Borovskoye. Fighting continues for the city of Severodonetsk, the General Staff said in a statement. – The occupiers were attacking in the area of ​​​​the settlement of Mirnaya Dolina, the fighting continues. Our soldiers successfully stopped the offensive actions of the enemy in the Borovskoye region," the General Staff said in a statement.
Read also: The occupiers are approaching Lysichansk, gaining a foothold in Ustinovka, Podlesne and Mirnaya Dolyna: how the day went in the Luhansk region
In other directions, the situation is as follows:
On the Slavic direction from artillery, the enemy is shelling civilian infrastructure in the areas of the settlements of Bogorodichnoe, Krasnopolye, Kurulka, Krasnoye, Rodnoe and Krasnaya Polyana.
On the Bakhmut direction the enemy shelled the positions of our troops from artillery not far from Nikolayevka, Berestovoye and Novoluganskoye. He is trying to improve the tactical situation and take control of the existing lines of communication under fire control.
On the Novopavlovsk direction the enemy exerted fire influence in the areas of the settlements of Antonovka, Ugledar and Zolotaya Niva.
On the Avdeevsky, Kurakhovsky and Zaporozhye the enemy did not conduct active combat operations. In order to prevent the transfer of reserves to threatening directions, the enemy fired on our troops in the areas of the settlements of Avdiivka, Umanskoye, Vesele, Novobakhmutovka, Gulyaipolskoye, Belogorye and Staroukrainka.
The sabotage and reconnaissance groups involved by the enemy were discovered and defeated by Ukrainian soldiers. The remnants of the enemy DRG fled in panic.
Read also: Defenders of Ukraine may have to withdraw from the industrial zone of Severodonetsk – Gaidai
Recall the situation in the Armed Forces of Ukraine in the Luhansk region is very difficult and, most likely, Russian troops will soon occupy both Severodonetsk and Lysichansk. But, according to the American Institute for the Study of War, this will be a turning point in favor of the Russians, because they are losing the remnants of their offensive potential there.