News
The first Russian couple got married in the Decentraland metaverse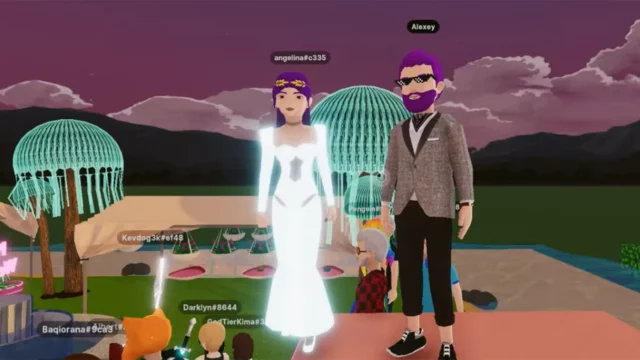 The first Russian couple tied the knot with their digital avatars on the virtual reality platform Decentraland. The festive ceremony took place on June 23.
The newlyweds — Alexey Pomykanov, the founder of Maff Ecosystem, and Angelina Sviridova, the creator of the Health Advocates online system, preliminarily registered their marriage in a real registry office, and decided to organize the celebration in the metaverse. The couple collected donations for "building a wedding and a new family" in advance for sitewhere the event was announced.
For those who for some reason could not join the ceremony in Decentraland, Alexey and Angelina organized broadcast celebrations on YouTube. The program included a DJ set, a virtual banquet with fruit and champagne, collective avatar photos, a ritual of buying the bride for shells and games in the form of tests to check how well the guests know the newlyweds.
There was no dress code as such, but the invitees received a warning that the appearance determines how their avatars will look in commemorative pictures. To dress up for the shoot, they were asked to use the Decentraland marketplace.
According to Alexei Pomykanov, the idea to hold a wedding in the metaverse was born to him in 2020 and justified itself when it turned out that some important guests for him and Angelina would not be able to come to a real wedding. His chosen one noted that the only drawback of the virtual celebration was the complexity of the organization and the lack of examples that could be guided by. "We are the first in Russia to make a wedding in the metaverse, so there was no one to even peek at," the girl said.
Now the newlyweds are ready to share their experience with other couples who want to celebrate their wedding in the metaverse: the couple has opened their own wedding agency in Decentraland.
Decentraland is one of the largest virtual reality platforms and runs on the Ethereum blockchain. In early June, RTVI holding opened in this metauniverse, his own representation, under which he bought the land. "Large media today are not fully represented in the meta, but only implement individual NFT projects, so we see great potential and want to be among the first," Olga Piven, CEO of the group of media companies, commented on the launch of the representative office.
Early June in Russia took place the first ever wedding in the metaverse. It cost the newlyweds Anton Kofanov and Irina Golubovskaya 3 million rubles. The couple created the venue for the ceremony on their own, spending two weeks on it. Since they had only 28 VR helmets, the guests had to connect in turn. According to Anton, the cost of such holidays starts from 500 thousand rubles, not counting the cost of VR helmets, each of which costs from 30 thousand rubles.