News
Taiwan steps up military readiness during Pelosi's expected visit – UNIAN
Beijing announced regular military exercises during the proposed visit.
Already expected today visit of the Speaker of the House of Representatives US Nancy Pelosi to Taiwan. The Taiwanese army stepped up its combat readiness, while the Chinese army continued exercises in the region.
How informs Taiwan Central News Agency (CNA), from 8:00 am on August 2 (1:00 Kyiv time) to 12:00 am (7:00 Kyiv time) on August 4, the national army will increase its combat readiness.
The Taiwanese army has two levels of combat readiness – "normal combat readiness period" (peacetime) and "defensive combat period" (wartime).
Currently, the level of alert remains "period of normal alert". It can be adjusted accordingly in the event of a threat from the PRC army.
Read also: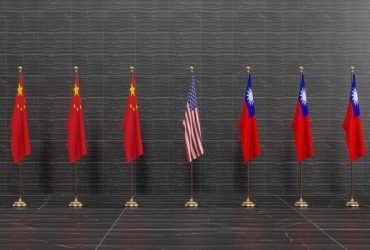 Recall, according to Taiwanese media, Pelosi will begin his visit to Taiwan around 5:30 pm Kyiv time. She is supposed to leave the island tomorrow.
China's reaction to Pelosi's visit
Beijing on the eve of Pelosi's visit to Taiwan held a series of live fire exercises in the Taiwan Strait, South China and East China Seas. This included a live-fire exercise in the waters near Pingtan, Fujian Province (125 kilometers from Taiwan).
On the evening of August 1, the PRC announced that the exercises would be held in the northeastern part of Hainan Island (about 1200 kilometers from Taiwan) from 0:00 on August 2 to 00:00 on the 6th.
On Tuesday morning, China's Fujian region (closest to Taiwan) announced that a large number of flights had been cancelled. This decision is associated with the upcoming visit of Pelosi.
During a regular Chinese Foreign Ministry briefing on Monday, Beijing warned of "egregious political implications" of Pelosi's planned visit. Chinese officials said the nation "will not sit idly by" if Beijing feels its "sovereignty and territorial integrity" are under threat.
China has previously stated that will respond with "drastic measures" if Pelosi travels to Taiwan, and also stressed that he "strongly objects" to a possible visit.
What they say about the visit to the USA
There has been some debate about whether Pelosi should visit Taiwan. This is due to growing concern that Beijing may go to war against democratic Taiwan.
If the visit goes ahead, Pelosi will become the first senior US politician to visit Taiwan in 25 years.
US President Joe Biden notedthat the US Department of Defense is opposed to US officials visiting Taiwan.
At the same time, according to sources CNNhe refrained from directly telling Pelosi not to go to Taiwan.
On the eve of the proposed visit, Secretary of State Anthony Blinken stressed that the decision to visit was "totally up to the speaker."
"Congress is an independent, equal branch of government," he said, and warned that if the visit goes ahead and China tries to escalate tensions because of it, "it will be entirely in Beijing."
White House national security spokesman John Kirby reiterated that "nothing has changed" regarding the US "one China policy" of recognizing Taiwan as part of China.
"We will not fall for the bait and we will not saber-rattling," he said.
According to him, the US "will not be intimidated" and will continue to operate in the Indo-Pacific region, seeking to maintain lines of communication with Beijing.
He said the administration expects "in the coming days, Beijing will continue to use inflammatory rhetoric and disinformation." But the US, he said, remains focused on "trying to manage tensions and, quite frankly, manage some of the most important bilateral relationships in the world."
You may also be interested in the news: