News
Powerful shelling of Lisichansk and assault on Sirotino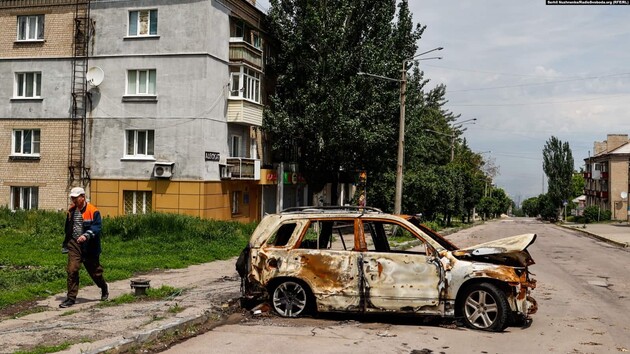 The Russian invaders heavily fired on Lisichansk the day before, the number of victims is being established, informed head of the Lugansk OVA Serhiy Gaidai. He also reported that our defenders had held back the assault at Sirotinoye.
"The shelling continued the night before last and all yesterday. Aviation was used. More than ten high-rise buildings, private houses, the building of the police department were destroyed. So far, one body has been found. The wounded woman was immediately evacuated to Kramatorsk. We are establishing the final number of victims, because yesterday it was practically impossible to move around the city safely," Gaidai said.
He added that the head of the military administration of Lisichansk came under fire.
In addition, Gaidai noted that serious damage was done in Gorny – 13 houses were damaged, in Novoivanovka – seven, and the lyceum was destroyed in Vrubovka.
"Fierce battles continue in the industrial zone of Severodonetsk – the Russians got into the building of the first checkpoint of Azot, fired at the territory of the brick factory, opened fire in turn in the area of ​​​​three bridges," the head of the OVA said.
According to Gaidai, doctors are still working in one of the hospitals in Severodonetsk. At the same time, 568 people remain on the territory of the Azot plant, among them 38 children – mostly employees of the enterprise and their families, they refused to evacuate.
The invaders also launched air strikes on Ustinovka, Maloryazantsevo, Belogorovka and Gorny. Fighting continues near Nikolayevka.
"Assault actions of the Russian army near Belaya Gora and Sirotinoye are currently ineffective," Sergey Gaidai noted.
Read also: ISW: The next week will be decisive in the Severodonetsk direction – what to expect
According to the General Staff of the Armed Forces of Ukraine, in the East of Ukraine Russian invaders are conducting offensive operations in several directions and continue artillery attacks on the positions of the Defense Forces, as well as civilian objects.
According to the Ukrainian military, shelling of units of our troops from artillery of various calibers continues in the Severodonetsk direction. The enemy launched airstrikes near Ustinovka, Gorny and Lisichansk. Continues the assault in order to seize full control over the city of Severodonetsk. The defense forces are holding back the onslaught of the invaders. In addition, they successfully repel the attacks of Russian units in the areas of the settlements of Sirotino and Belaya Gora.