News
Miami police are buying weapons from the townspeople to send them to the Ukrainians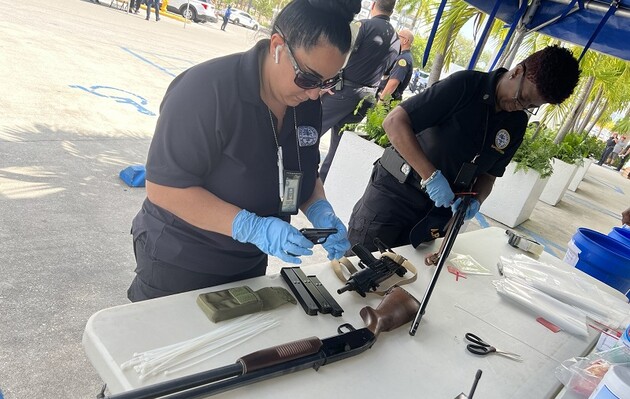 The Miami Police Department on Saturday, June 18, held the "Weapons for Ukraine" program – firearms were bought from the townspeople in order to transfer them Ukrainians to the front. $50 for handguns, $100 for shotguns, and $150 for rifles like the AK-47 or AR-15, reports The Washington Post.
"It's not too late to turn in your firearms, no questions asked! The buyback of weapons takes place at Miami City Hall until 2:00 pm, "the Miami Police Department wrote on Twitter, adding the hashtags #SupportUkraine and #GunBuyBack.
It's not to late to turn in your firearm, No questions asked!

Gun Buy Back happening now at Miami City Hall until 2 pm 3500 Pan American Drive #SupportUkraine #GunBuyBack https://t.co/RRdwGDg3YX pic.twitter.com/gsgZZWv31W

— Miami PD (@MiamiPD) June 18, 2022
According to Miami Police Chief Manuel Morales, 68 weapons were collected in this way. But, in his words, only "a few of them are suitable for sending to our friends in Ukraine."
In addition, US and foreign export license requirements make transfers more difficult. And the Miami gun buyback program itself has caused controversy on some conservative gun websites. Commentators there expressed skepticism that the collected weapons would actually make it to the front lines or be useful in the fight.
Read also: Actor Sean Penn urged billionaires to chip in fighter jets for Ukraine
It is not clear how the Miami Police Department plans to deliver weapons to Ukraine. Earlier this month, the Miami City Commission approved a resolution "directing the City Manager to take all measures to ensure that weapons obtained through the City's gun buyback program are sent to Ukraine to protect and liberate the Ukrainian people from Russian invaders."
Recall May 25 in Texas, a student staged a mass shooting at a schoolkilled at least 15 people. After that, a wave of actions swept the country demanding tougher rules for the sale and purchase of firearms.