News
Malevich, Gogol, Repin and more: Film.ua will debunk myths about artists appropriated by Russian culture
Appeared on the web a series of videos about artists, associated with Ukraine, their self-identification and non-isolated cases of appropriation of their achievements by Russian culture. The initiative of the distributor Film.ua Group "Born by Ukraine" will consist of a series of 2-minute videos about such outstanding artists, writers, scientists and people of art as Kazimir Malevich, Ilya Repin, Alexander Murashko, Igor Sikorsky, Vera Kholodna, other. The first video dedicated to Nikolai Gogol is already published on the company's official YouTube channel.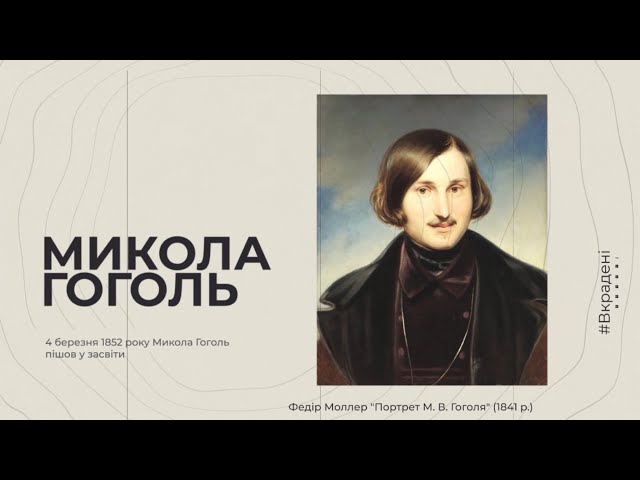 "For centuries, Ukrainian figures traveled to Russia in search of better opportunities or were forcibly deported to its territory to work for the benefit of the "great Russian culture." Over time, Ukrainian names began to appear more and more often on the pages of Russian history, however, data on their belonging to the Ukrainian nation was often distorted or modestly mentioned only in the line "place of birth." And there are many such cases," the project says.
Episodes are available in Ukrainian and English.
Recall The Art Club of the Council of Europe hosted the opening of an exhibition of Ukrainian artists. The works will be put up for sale, half of the proceeds should be transferred to our museums.
Yesterday we reported start of the competition of short films about the war. The corresponding initiative of the channel of Ukrainian foreign broadcasting has already been supported by Goskino.
And in May Kharkiv rock band "Zhadan and Dogs" released a song about children from the subway. Quote:
Are the sounds of fun children of Kharkiv pudvals?
Children who live near the depths of the subway…
Light, what a mustache tse bachiv – posiviv and aging
Ale love – tse robot і us robiti tsiu robot schodny …