News
Kyiv region – A temporary modular town will operate in Bucha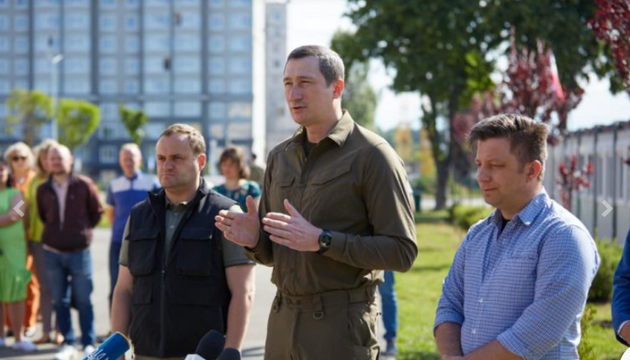 Chairman of the Office of the Prime Minister of the Republic of Poland, Minister Michal Dvorczyk and Minister for the Development of Communities and Territories of Ukraine Oleksiy Chernyshov opened a temporary modular city in hero-city Bucha Kyiv region, – informs Ministry of Development of Communities and Territories of Ukraine.
According to the minister, the temporary town is designed for 352 seats.
"People who have lost their homes will live here. In particular, among them there will be teachers whose housing was destroyed both in Bucha and in the surrounding settlements and who work in a local school. This accommodation is temporary. The government, regional and local authorities are now actively working on long-term options for providing housing and rebuilding damaged housing," – said Alexey Chernyshev.
In total, 704 people are planned to be accommodated in modular towns in three locations in Bucha.
"There are 88 living rooms, dining rooms, children's, women's and men's toilets and shower rooms in this town. This option, which we started to implement together with the Government of Poland, has already proven its convenience and optimal comfort", – informed the head of the Ministry of Regional Development.
As of June 21, 2022, 4,775 residents of Bucha (3,201 families, including 24 large families and 22 single parents) were registered as internally displaced persons, including 1,055 children (under 18), 1,188 pensioners, 162 people with disabilities.
In the city of Bucha, as a result of hostilities, 1,735 housing facilities were damaged/destroyed, of which 236 apartment buildings (1 house was completely destroyed and 235 damaged) and 1,499 individual estate houses (136 were completely destroyed and 1,363 were partially destroyed/damaged).
Read also: Journalists managed to reveal the names of eight more Russian military personnel operating in Bucha
It was previously known that Taiwan will take part in the post-war reconstruction of the Ukrainian city of Bucha. Also, the country's government promised to send financial assistance to the restoration of Kharkov, Odessa, Chernihiv, Sumy and Zaporozhye.