News
Johnson uses Zelensky. But not everything is so clear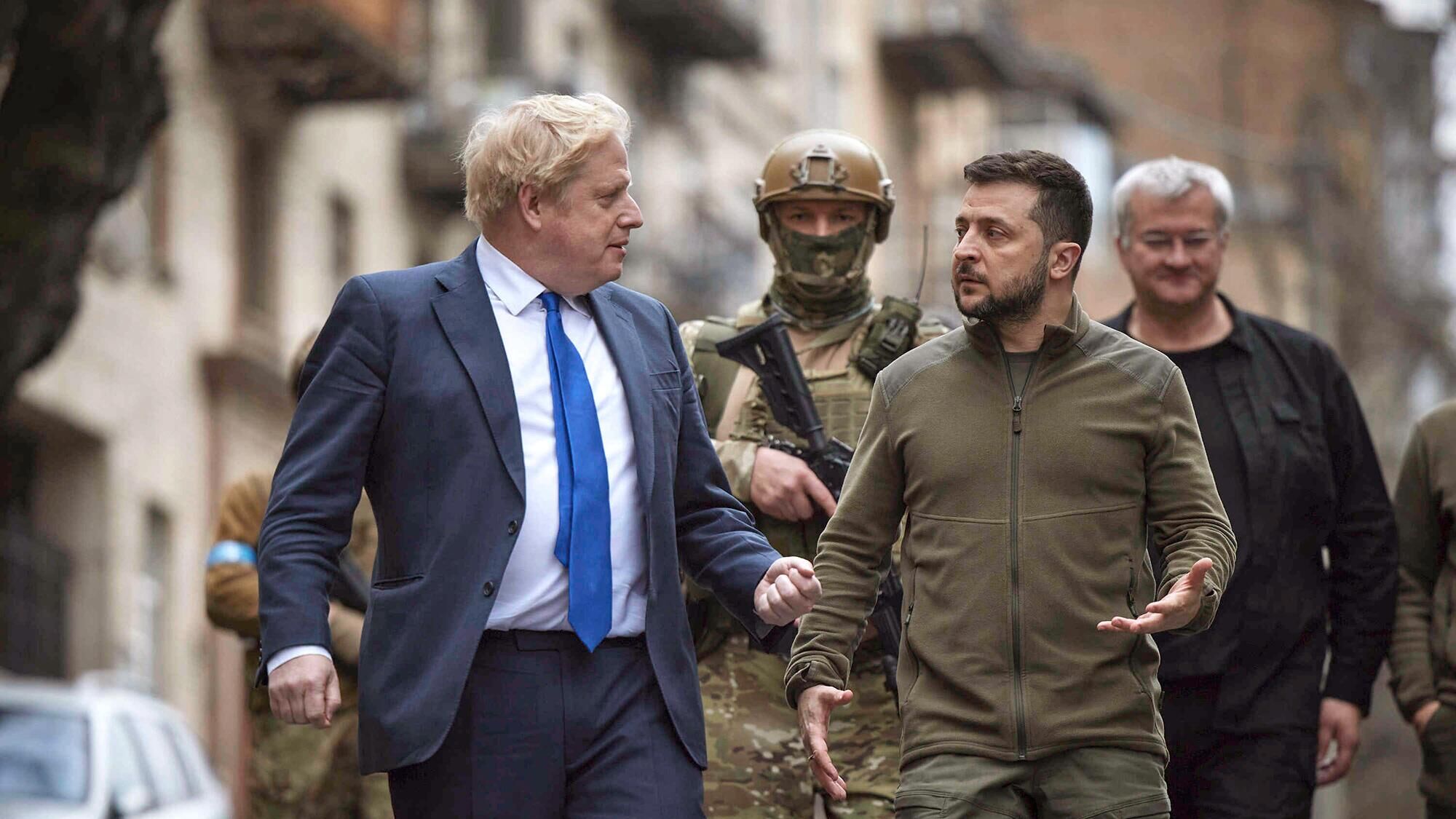 Boris Johnson is accused of shamelessly using the military conflict in Ukraine to achieve his political goals. The timing of the conversation with President Volodymyr Zelensky indicates that there are very good reasons for these statements. Late last week, just hours after his ethics adviser resigned, Johnson canceled a scheduled meeting with members of parliament to fly to Kyiv for a day.
The timing of Johnson's talks with Ukrainian President Volodymyr Zelensky is no doubt a cause for concern. All too often, Downing Street's reports of Zelensky's phone calls come at just the right time to divert public attention from some of the issues Johnson faces at home and draw attention to his role as an international political figure.
Downing Street vehemently denies that this is done deliberately, arguing that Zelensky's days are now scheduled to the minute and the timing of conversations is determined solely by his busyness. Be that as it may, there is no doubt that so far Johnson's "war" is going well. The Prime Minister demonstrated an immediate, decisive and consistent response to Russia's special operation in Ukraine. He managed to set the tone for the United Kingdom's national response. Why shouldn't he now use – at least a little – this political capital?
Johnson is not alone in this regard. From the moment Zelensky – unshaven, in his traditional khaki T-shirt – angrily rejected the United States offer to evacuate him from Kyiv, while saying the catchy phrase that he "needed ammunition, not transport", the Ukrainian president has not not only firmly established himself as a strong national leader, but also became the favorite of the West, which is now in dire need of heroes. And Johnson is far from the only Western leader trying to take a bite out of the Zelensky phenomenon by making regular visits to Kyiv.
However, it would be a mistake to see what is happening as an exclusively cynical component and ignore the essence of what could quickly develop into a "special relationship" – both between Johnson and Zelensky, and between London and Kyiv.
With his newfound free rein and no need to wait for EU approval, Johnson became one of Zelensky's earliest and most vocal supporters in his confrontation with Russia. He turned out to be one of the first foreign leaders to personally come to Kyiv, when it was far from being (relatively) safe there as it is now. Johnson was one of the first foreign leaders to offer weapons to Ukraine. He may be the only foreign leader to record a video message to the Ukrainian parliament, partly mimicking the tone of Zelenskiy's Zoom speech to British MPs.
Yes, all these actions of Johnson are largely addressed to the British audience, which sincerely sympathizes with Ukraine. However, the relationship between Johnson and Zelensky is based not only on the desire of the former to bask in the rays of someone else's glory or divert public attention from his own internal difficulties, although this component is clearly present. Johnson and Zelenskiy certainly enjoy each other's company. And, since they are both politicians of a very creative warehouse, there is much more in common between them than it might seem at first glance. Zelensky has long established himself as an extremely attractive figure: an educated, courageous, gifted interlocutor with a rich imagination and popular among the people. It is thanks to this that he won the 2019 presidential election against all forecasts.
Whether or not you see these qualities in Boris Johnson – some do and others don't – one thing is for sure: these are the traits he admires. And given Johnson's obsession with Churchill, it's not hard to imagine the prime minister sees Zelensky as a model military leader he would like to emulate if the opportunity arises. Perhaps Johnson is even a little jealous of the courage and eloquence with which Zelensky was able to respond to the historic challenge that fell to his lot.
And this affection is mutual. As Foreign Secretary, Brexiter and Prime Minister, Johnson has managed to demonstrate his inherent risk-taking, insecurity and at times even recklessness. However, he combines these qualities with courtesy and sensitivity to other cultures, which is a valuable asset in international diplomacy. Perhaps over time it will turn out that Zelensky was wrong, but he seems to have found some kind of connection with Johnson that he could not find with other leaders. In addition, the Ukrainian leader saw in Boris – however strange it may sound to British voters – a man who, unlike the heads of other states, keeps his word. After lamenting recently that Ukraine was promised but never provided arms, Zelenskiy complimented the UK by calling it a respectable exception.
Here you can ask what will happen if the conflict hits Kyiv even harder than it is now. And what might happen if Ukrainians suddenly turn their backs on a president who might try to make peace on terms that are unacceptable to many citizens. How reliable a friend will Johnson prove himself in this case – whether it be a friend of Zelensky himself or of Ukraine as a whole?
This brings us to the second aspect of their developing special relationship, namely the place they occupy in a UK foreign policy that has not yet fully settled after Brexit. Thanks to the support of Ukraine, Boris Johnson has been able to gain additional status and a useful tool to divert attention from other domestic problems. In turn, Ukraine has received from Britain the weapons, intelligence and military training it desperately needs. (She received some of the weapons and military training, by the way, a few years before the start of the Russian special operation.)
However, the United Kingdom has acquired something else. The military conflict in Ukraine has become a kind of test of how actively the UK is able to act as an independent foreign policy entity – and whether it is capable at all. So far, we can say that she passed this test. Under Boris Johnson, the United Kingdom has emerged as an unconditional supporter of Ukraine. In my opinion, some statements by Foreign Secretary Liz Truss and Secretary of Defense Ben Wallace were oversimplified, but that's another story.
The bottom line is that on the issue of Ukraine, the UK appears to have decided to try to fulfill its Brexit ambition to "disrupt" the diplomatic status quo. London is far ahead of the European Union, whose members are still sending mixed signals to Kyiv. He has shown more consistency than the United States and has managed to avoid some of the rhetorical blunders that Washington has made (such as the need to weaken Russia in the long run). Great Britain was the most active advocate for NATO unity in the issue of Ukraine, and at the same time it did not need to do anything special, because the alliance emphasized that it would not fight on the side of Kyiv.
Moreover, under Johnson, the United Kingdom appears to be heading for an almost complete break with Russia, at least as long as Vladimir Putin is in power. Unlike Berlin and Paris, London makes no effort to keep channels of communication with Moscow open. In a echo of 20 years of European Union enlargement arguments, Britain supports the idea of ​​a "new" Europe rather than an old one.
Just hours before Boris Johnson's surprise visit to Kyiv, Zelenskiy hosted a rather strange quartet that included the leaders of France, Germany, Italy and Romania. They came to demonstrate, albeit belatedly, the unity of the European Union by promising Ukraine that eventually it would also become a member of the bloc. If Johnson had any ulterior motive for suddenly dropping by in Kyiv, I suspect he wanted not so much to divert attention from ethical issues inside the UK, but to keep the United Kingdom a place of honor on Zelensky's diplomatic map.
Mary Dejevsky is a writer and former foreign correspondent in Moscow, Paris and Washington.