News
Ilya Medvedev became a member of United Russia. What is known about the son of the ex-president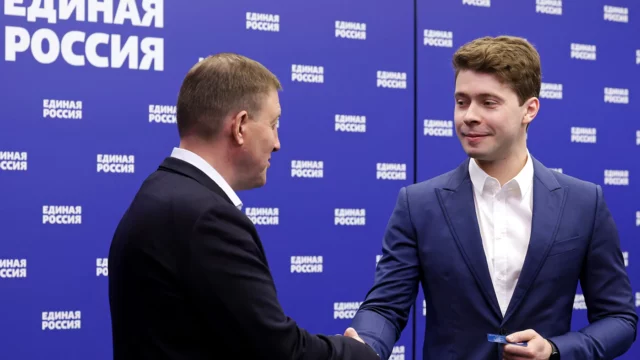 The son of the ex-president of Russia and the current deputy chairman of the Security Council Dmitry Medvedev, Ilya Medvedev, became member "United Russia". Andrei Turchak, secretary of the ruling party's General Council, who presented Medvedev Jr. with his party card, said that Ilya's example "will push the young guys to make a decision and join United Russia." Ilya himself, in turn, promised to take up a whole series of projects – in particular, the development of sports, education, as well as support for entrepreneurship. What Ilya Medvedev is known for – in the RTVI material.
"So far I have not seen much success with him"
Ilya Medvedev was born in 1995, in St. Petersburg. As a child, the son of the ex-president starred in Yeralash: for example, in the 206th episode of the children's series, he plays a boy who, having seen enough of the militants, saves the girl from the bandits, but then it turns out that in fact he disrupted the filming. In 2012, as informed the Vedomosti newspaper, citing Medvedev Sr., Ilya entered MGIMO at the Faculty of International Law.
In 2020, in one of his interviews, Dmitry Medvedev toldthat his son "is trying to engage in private business projects, including in the digital economy." "So far I have not seen much success with him there, but I hope that everything is still ahead," Medvedev Sr. noted. Dmitry Medvedev did not share more detailed information about his son.
"It is interesting to do what is more interesting for young people, for example, the field of technology"
Ilya Medvedev himself, in turn, in an interview with Moskovsky Komsomolets in 2016 spokethat, in addition to studying (then Medvedev Jr. was still at the university), he goes in for sports, is fond of art, and also likes to "spend time with friends, with family" and sometimes tries to "get out to exhibitions, to the cinema and to the theater."
The son of the ex-president also noted that he would like to become a diplomat, and emphasized that he was "interested in doing what is more interesting for young people, for example, in the field of technology." At the same time, he was not going to work in a state corporation. However, as a child, according to Medvedev Jr., he had a dream of becoming an actor, but after he looked "from the outside at himself in Yeralash, he realized that this was not his."
In the same interview, Medvedev said that he was going to enter the magistracy, but he did not consider studying abroad for himself at that time: "I think that it makes no sense to get a legal education in another country if you are going to work in Russia," said Medvedev's son.
Medvedev's son was allegedly deprived of an American visa
In early June, various media reported that the United States allegedly revoked the American visa of Ilya Medvedev, who at that time was in California, and allegedly forced him to leave the United States: such a message as notes "Checked. Media", first appeared on the social network of entrepreneur Denis Dovgopoly.
However, later this information was not confirmed, and the businessman himself denied his original post. As Dovgopoly noted, it is not known whether Medvedev really was in the United States at the beginning of June, and, moreover, his sources did not confirm that the visa was revoked. However, according to other rumors referred to by Dovgopoly, Medvedev Jr. was not in California, but in Miami. However, any verified information about where Ilya Medvedev was in recent years. did not appear in the media.