News
How do Europeans feel about the war in Ukraine – poll
ECFR survey "Peace vs. Justice: The Future Split of Europe as a Result of the War in Ukraine", held at the end of May 2022, revealed a growing gap between the expressed positions of many European governments and public sentiment in their countries.
The results of the ECFR poll divide Europeans into two opposite groups: camp Mira (35% of people)who wants the war to end as quickly as possible, even if it means that Ukraine is making concessions and Camp Justicewho believes that only a clear defeat of the Russian Federation can bring peace and punishment to Russia for its aggression and restoration of the territorial integrity of Ukraine (22%).
Another part of Europeans (20% of respondents) refused to choose between the camp of "peace" and "justice", but still largely support EU action in response to Russia's war in Ukraine. Members of this group share the anti-Russian sentiments of the Justice camp, but are also alarmed by the escalation – like the Peace camp.
It is noted that in the coming months, pressure will increase on the third group to get rid of the fence. Their views and their voices can be decisive in determining Europe's next steps.
ECFR research shows that although Europeans feel eternal solidarity with Ukraine and support sanctions against the Russian Federation, they are divided along long-term goals.
In Italy (52% of respondents), Germany (49%), Romania (42%), France (41%), Sweden (38%), citizens support peace at the cost of concessions to Ukraine, while in Poland – 41% of citizens support the idea of ​​justice.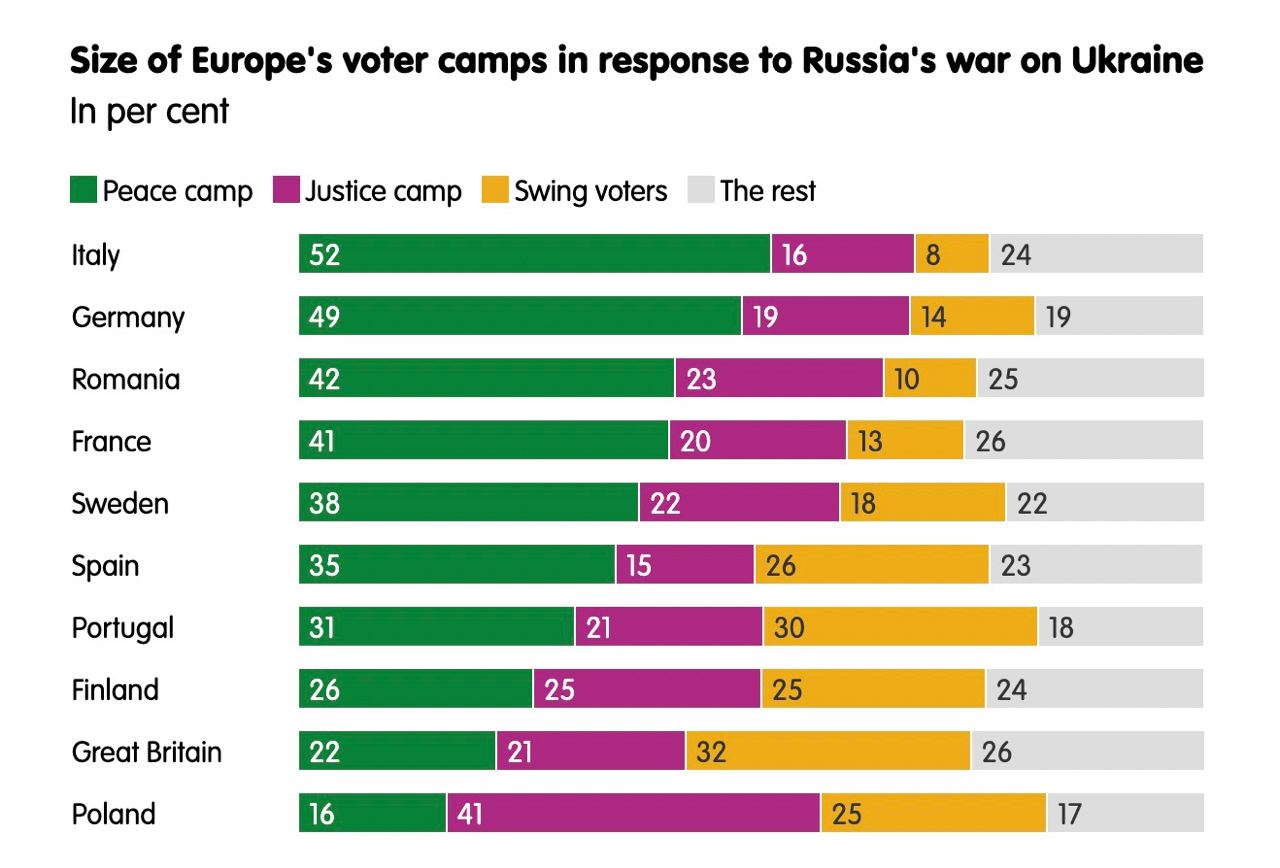 In Portugal, 31% are for peace, 21% for justice and 30% are undecided. In the UK, 22% of citizens support the idea of ​​​​peace and 21% are in favor of justice, another 32% are undecided.