News
Exports have plummeted. Which US states have lost the most due to sanctions against Russia
Exports to Russia of all five American states that trade most actively with it, after the start of the "special operation" in Ukraine, fell significantly, RTVI found out, having studied the data of the US Census Bureau (Census Bureau). Thus, exports from Texas to Russia in March-April 2022 decreased three times compared to the same period last year, from Louisiana – four times, from California – seven times, from New Jersey – twice, from Washington – thirty times. At the same time, imports to these states from Russia – we are talking mainly about oil and mineral products – did not change significantly.
The total volume of exports from the United States to Russia in March-April 2022 amounted to $190.1 million compared to $1.1 billion in the same period last year. A year ago, most of the imports from the USA to Russia were aircraft, spacecraft and spare parts for them ($232.7 million), nuclear power equipment ($188.2 million) and cars ($167.6 million). A year later, the value of exports for each of these categories turned out to be less than $100,000. At the same time, American imports from Russia in March-April of this year turned out to be only $200,000 less than a year ago, and amounted to $4.8 billion, while imports of oil and mineral products even grew by $100,000 to $3 billion.
Back in March, the United States introduced ban to conclude new contracts for the supply of Russian oil. In 2021, Canada (1.6 billion barrels or 51.3%), Mexico (259 million or 8.4%) and Russia (245.2 million or 7.9%) became the main oil exporters to the States. The United States increased oil purchases from Russia after the aggravation of contradictions with Venezuela and Iran, which led to the imposition of sanctions against these countries. Now there is a call in Texas to increase its own oil production in order to benefit from the oil embargo.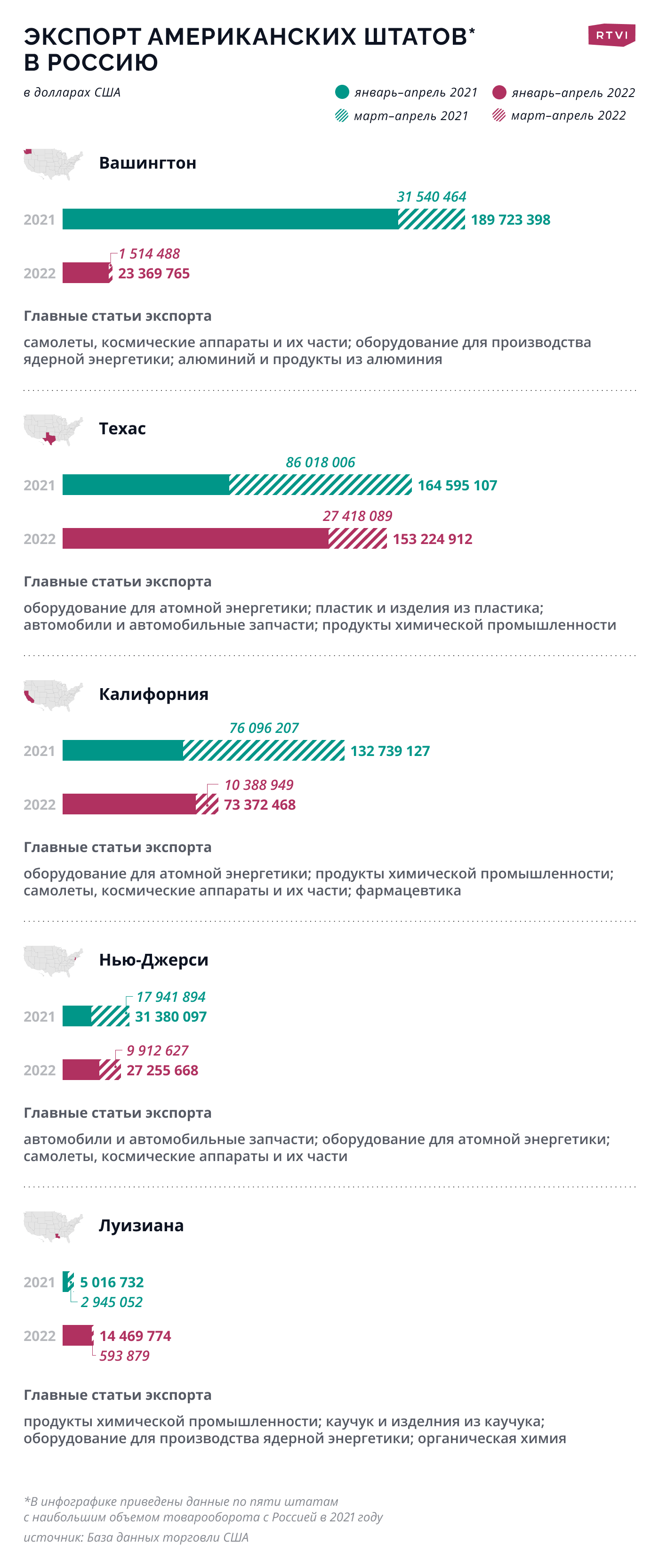 The two leading states in terms of trade with Russia in 2021 out of five – Texas and Louisiana – vote predominantly for the Republicans in the congressional elections, in the other three – for the Democrats. At the same time, they were presented from all these states – among the main supporters of sanctions against Russia. For example, New Jersey Senator Robert Menendez, head of the Foreign Affairs Committee suggested introduce restrictions even before the start of the Russian "special operation" in Ukraine, and Texas Senator Ted Cruz was one of the main opponents of Nord Stream 2.
In the US, local politics matter a lot: Senators and congressmen try to please local businesses and ordinary citizens in order to secure their chances for re-election. For example, when President Donald Trump raised tariffs on goods from China and the EU in 2018, Brussels and Beijing answered an increase in duties on American bourbon, the main producer of which is Kentucky, the state of the then head of the Senate majority Mitch McConnell. Although he urged to resolve the conflict, but refused to openly oppose Trump's policies and did not support initiative to reduce his powers.
Neither the representatives of individual states in Congress nor their governors reacted much to the sanctions war with Russia. The White House even had to turn to companies to convince them to buy more fertilizer from Russia to develop agriculture, wrote Bloomberg. Despite the improvement in political relations between Moscow and Washington in the early 2000s and investment ties, trade between the US and Russia remained modest. For example, Texas trade with Russia in 2021 was less than 0.5% of the state's GDP, Louisiana – 2%, New Jersey – 1%. At the end of 2021, Russia accounted for 0.4% of US exports and 1% of imports, while China accounted for 9% and 18%, respectively.