News
DART sends images of the star Vega back to Earth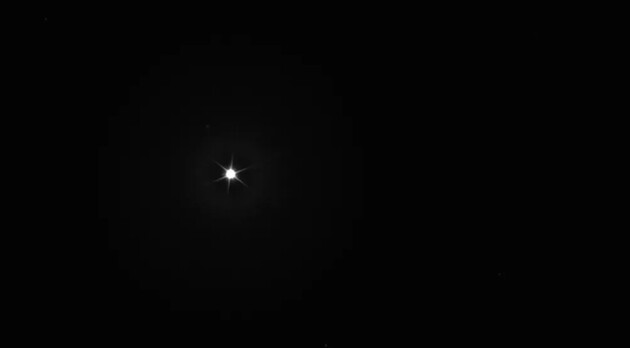 Double Asteroid Redirection Test (DART) apparatus, which should collide with the asteroid's satellite and change its trajectory, took a picture of Vega, a bright star in the night sky. Thus, a team of specialists checked the operation of the device's camera, reports space.com.
It is noted that the apparatus is not entirely intended for satellite imagery. But the mission team wanted to test how much bright light the Didymos Reconnaissance and Asteroid Camera for Optical navigation (DRACO) could capture.
Read also: "Bricks of life" first found on an asteroid in space
"We needed something bright. Vega is bright. We take a series of shots and look for light that can scatter off parts of the camera and end up where it shouldn't be. We use both slow and slow shutter speeds to get different measurements of how ambient light can be," said DRACO specialist Carolyn Ernst.
Vega is only 25 light-years from Earth and is one of the brightest stars in the night sky. The luminary enters the constellation Lyra and, together with the stars Deneb and Altair, forms the most famous asterism in the Northern Hemisphere, the Summer Triangle.
DRACO took two black and white shots of Vega. The first one, when the camera was pointed directly at the star, was too saturated to check for scattered light. "Spikes" formed around the edges of the star, associated with "a diffraction pattern from the structure holding the camera's secondary mirror in place." For the second shot, Vega was deliberately placed out of the camera's view to "see her halo-like glow."
These images will be used to calibrate the DRACO prior to the main DART mission.
Recall that the launch of the DART mission took place on November 24, it was carried out using the Falcon 9 launch vehicle. In September 2022, DART should crash into Dimorph, the satellite of the asteroid Didim. This will be the first demonstration of the agency's strategy to protect the Earth from asteroids.
The device will crash into the asteroid's satellite to change its trajectory. The impact is expected to change Dimorph's rotation speed around Didyma by only 1%. This, in turn, will change the object's orbital period by several minutes, which can be seen with ground-based telescopes.
The collision will be humanity's first attempt to change the dynamics of celestial bodies in the solar system.
The binary system was discovered back in 1996. It consists of two celestial bodies: Didyma with a diameter of about 780 meters, and Dimorph, whose diameter is estimated at 160 meters. In September 2022, the system will come relatively close to the Earth and will be at a distance of 11 million kilometers from it.