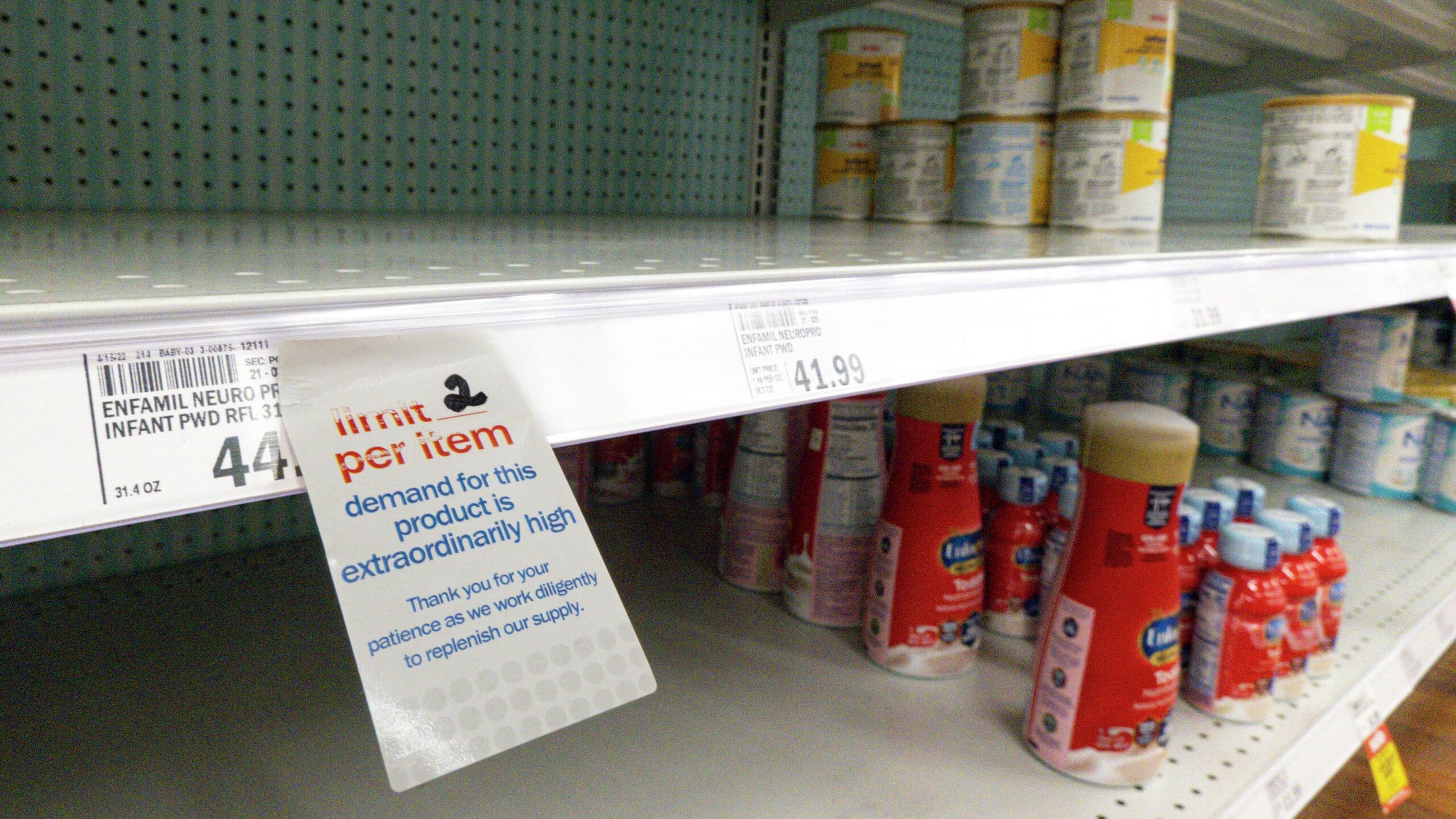 In the United States, the depletion rate for infant formula reached 43% last week.
For months now, American parents and caregivers have been trying to deal with the problem of running out of baby formula. But in the past few weeks, such blends have become especially difficult to find, leading some chain stores to limit the amount of goods sold per person, and the Food and Drug Administration is urgently looking for a way out of the crisis.
According to the Centers for Disease Control and Prevention, only one in four mothers in America breastfeeds exclusively for up to six months, meaning the vast majority of parents and caregivers are at least partially dependent on infant formula.
Here's what you need to know about the current shortage of infant formula.
Why are these blends so hard to find?
The shortage is "exacerbated by supply chain issues, batch recalls and record inflation," said Ben Reich, CEO of Datasembly, which tracks data across retailers. Stocks of infant formula were 43% below normal last week, down from about 30% to 40% a month earlier.
Supply chain disruptions linked to the coronavirus pandemic led to shortages of a wide range of consumer products, but shortages of infant formula worsened in February after Abbott recalled its Michigan-made products sold under the Similac, Alimentum and EleCare brands . This was done after four children who were fed formula by their parents – one in Minnesota, one in Texas, and two in Ohio – developed bacterial infections. Two of them died.
Regulatory authorities said that the bacterium Cronobacter sakazakii "may have caused the death of both patients."
Abbott said its own internal investigation found that infant formula made at a facility in Sturgis, Michigan, was unlikely to be the source of infection. On Wednesday, Abbott said it could resume production at the plant in as little as two weeks if it receives approval from the Food and Drug Administration. It will take six to eight weeks for the product to go on sale after production resumes.
What measures are being taken to solve the problem of shortage of infant formula?
Abbott said the company is "prioritizing infant formula" to alleviate shortages and that it "daily" airlifts products from its Irish-registered facility. The company is working with government agencies to help parents who receive formula through the Women's, Infants and Children's Special Complementary Nutrition (WIC) formula with other Similac products "at no charge, including products from other manufacturers," they said.
But, according to Brian Dittmeier, senior director of public relations at the National WIC Association, so far these efforts have not reflected on the filling of store shelves. Abbott is the exclusive supplier of more than half of WIC's divisions in the United States, through which more than 1.2 million infants receive free formula. Such incentives typically only apply to a limited range of formulas, but the agencies have made some allowances to give families more leeway during times of shortage.
"The unprecedented scale of this decision to recall infant formula has had serious consequences for infants and their parents," Dietmeier said.
On Tuesday, May 10, Food and Drug Administration spokesman Robert M. Califf said the agency is "doing everything we can to ensure quality products are available when and where" parents and caregivers may need them. .
According to Califf, management is in talks with major manufacturers to "better understand their capacity to increase production," and the industry is "already working to maximize production in the face of new demands."
The FDA is also speeding up the process of reviewing possible manufacturing changes and issuing certifications to "ensure flexibility" in importing approved products.
However, the Food and Drug Administration is being criticized by some lawmakers for how it is handling the situation. Rep. Rosa L. DeLauro said the agency may have been "too slow to respond" to whistleblower allegations about Abbott's Michigan plant that were made back in October 2021. According to Delauro, the department did not conduct a review of production until the tragedy struck in late January.
The report by the whistleblower mentioned above stated that Abbott had falsified records, did not maintain proper documentation, and released an untested mixture for sale. It also stated that the company withheld information during an audit in 2019 and that the products could not be properly traced.
In a press release, Abbott said it would "due diligent review" of the whistleblower's claims. But the company said the allegations were made by an employee who was "fired due to serious violations of Abbott's food safety policy."
"After the dismissal, the former employee, with the help of lawyers, made more and more serious allegations," Abbott representatives said.
What if I need a specific type of infant formula?
For parents and caregivers who need a particular type of infant formula, whether because of their baby's health or for some other reason, Abbott's formula shortages and product recalls have been particularly problematic. The Abbott recall prompted Claire Rowan, whose 16-year-old son suffers from a severe and even potentially fatal food allergy, to write a post of desperation on social media: "At the moment he has no food. or run the risk of anaphylactic shock."
According to the Food and Drug Administration, it has informed Abbott that it "does not object to the company immediately providing its products to individuals in need of life-saving specialty formulas."
However, the agency warned that these products were manufactured at a Michigan plant at a time when their safety was being questioned, and therefore their consumption "is associated with a risk of contamination."
Those who wish to obtain these products should "consult with their healthcare provider to determine whether the benefits of consuming these products outweigh the potential risk of bacterial infection on a case-by-case basis," the FDA said in a statement.
Can I make my own mix at home?
The FDA recommends against doing this because homemade formula may not contain essential nutrients that an infant can only get from special baby food.
However, for obvious reasons, some parents may try it out of desperation: the lack of formula in stores is exacerbated by soaring inflation. Americans are paying more and more money for basic necessities, from car gas to a roof over their heads. Infant formula, the only complete breast-milk substitute, is expensive, according to the US Surgeon General, with the average cost of buying popular brands of formula well over $1,000 in a baby's first year.
According to Ditmayer, the National WIC is sounding the alarm about "risky behavior" by parents, fueled by the spread of information on social media, "including information about the use of homemade formula, reconstitution of infant formula, the use of recalled formula and the introduction of cow's milk earlier than recommended." .
"We continue to encourage families to consult with their doctor when changing formula," Dietmeier said.
Reader comments:
This once again highlights the problems that arise when the United States, or any other country, becomes dependent on a very small number of manufacturers. Consider the global shortage of microchips caused by reliance on chips made in Taiwan.
And I wonder how women and parents managed before infant formulas were mass-produced so that they could be bought at any store and pharmacy? Yes, I'm aware that these formulas supposedly contain "essential nutrients, vitamins and trace elements", but desperate times call for desperate measures. I'm sure there is a way to make "safe" formula at home and even find baby vitamins to add to it. This will allow parents to get through the difficult period until supplies resume.
I wouldn't worry too much about the "deficiency" of infant formula. Last time I checked, most women had two breasts.
As I read the article, I felt a powerful impulse to go back to the natural basics: breastfeeding and avoiding deeply processed "food".
How about taking a couple of billion dollars out of the $40 billion we've given Ukraine to provide our own children with formula milk? Personally, I would support this kind of spending.
It begins to seem to me that we are constantly being fooled, intimidated by the shortage of everything. I can guarantee that these companies continue to earn record high profits.
Due to tightening restrictions on abortion, we will soon see an impressive increase in the birth rate of unwanted children, which will lead to an increase in the deficit. Stop for a moment and think about the law of unintended consequences. Soon many children will starve, perhaps even die and get incurable diseases due to the fact that some women will simply be forced to give birth to future refuseniks.