News
A fire broke out at a plant in the Rostov region. A blow to the enterprise could have been delivered by a Ukrainian drone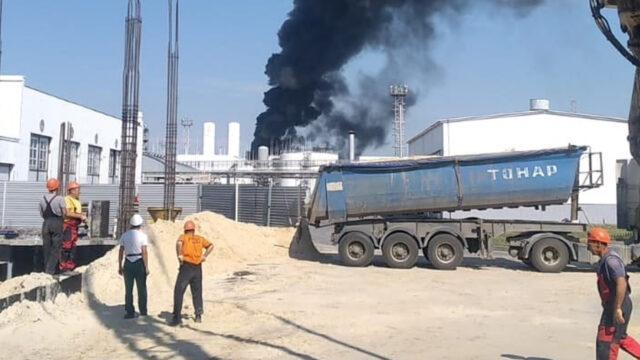 On the morning of June 22, a fire broke out at the Novoshakhtinsky processing plant in the Rostov region. This was reported TASS, RIA News and Interfax with reference to the regional Ministry of Emergency Situations. It is believed that the company was hit by a drone.
The fire occurred in the heat exchanger of the plant on an area of ​​50 square meters. m. 30 people and 14 pieces of equipment were involved in extinguishing the fire. Fire localized. There were no casualties.
Source in the Rostov authorities noted told TASS that workers at the plant spotted a Ukrainian drone before the fire. "He crashed into the construction of the plant, after which there was an explosion," the source said.
A video from the enterprise also appeared on social networks, which, in particular, published telegram channel Baza: from the record it follows that the strike on the plant, presumably, is inflicted by an unmanned aerial vehicle. Telegram channel SHOT also posted photographs of the alleged wreckage of this drone.
The Novoshakhtinsky processing plant is located in the Krasnosulinsky district of the Rostov region. Journalist Dmitry Kolezev notedthat the enterprise is located in a "very deep rear". "According to my estimates, about 170 km to the nearest Ukrainian positions," he wrote.
The Novoshakhtinsky oil refinery is located in the Krasnosulinsky district of the Rostov region. This enterprise is the largest supplier of petroleum products in the south of Russia, as well as the only operating refinery in the region. The plant produces fuel oil, heating oil, marine, diesel fuel and straight-run gasoline.
June 20 Armed Forces of Ukraine (AFU)

attacked

offshore drilling platforms of the Chernomorneftegaz company off the Crimean coast. Crimean senators said five people were injured in the attack. In the Russian Ministry of Defense

reported

that Russia fired cruise missiles at the Odessa airfield in response to the shelling of Chernomorneftegaz.

At the end of April in Bryansk, which borders Ukraine, happened fire at the Tatneft-Druzhba oil depot. The official cause of the fire was not named, but eyewitnesses heard several explosions before the fire started at the enterprise.