News
A farmer from Donbass brought a flock of sheep to Volyn after hundreds of animals died from shelling
With animals, the man walked more than 50 km, and then hired a truck to take the sheep to Volyn.
Farmer with Donbass Vladimir Alekhin raised sheep in Pavlovka for many years, but because of the fighting he was forced to leave the house.
According to "Suspilne" the shepherd did not leave his flock. At first, his flock numbered 520 heads, but after one of the attacks, he lost some of the animals.
"I had 100 heads laid down … when there was a mortar shelling. I stood in the pasture, tried to drive it away, but it still hit me," the man said.
The man first drove the surviving part of the sheep on foot from the combat zone. He walked more than 50 km with the animals, and then he hired a truck that brought the sheep to Volyn to a farmer he knew.
Read also: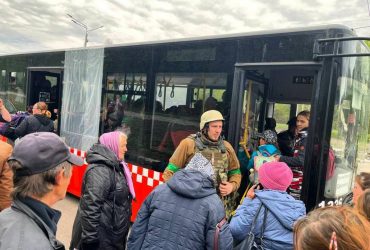 "I offered him to come to me. He thought for a long time, because it was a long way to go. We helped him and he came to us. He is not that hardworking, he is a plowman. He stands for Ukraine with a mountain. He did not want to live with the Russians and came to us," said Vasily Melnyk, a Volyn farmer.
Now, in the meadows of Volyn, a farmer from the Donbass is helped to graze the flock by Lyusya and Roshen, two dogs of the Border Collie shepherd breed, which the shepherd also brought from the Donbass.
As UNIAN reported, since the start of Russia's full-scale invasion of Ukraine passed through Zaporozhye about 400 thousand Ukrainians who left the occupied territories.
You may also be interested in the news: